In the south-east of Aruba is San Nicolas, also called the Street Art Capital of the Caribbean. It is the second largest city on the island after Oranjestad but with the charm of a small, authentic Caribbean fishing village. San Nicolas is often (unintentionally) skipped by tourists. Completely unjustified in our opinion. The little town and its immediate surroundings have a lot to offer. Like an artistic and cosy centre and beyond that a beautiful and especially lovely tropical beach. To get to know San Nicolas better, we booked a city walk and it became one of the absolute highlights of our holiday. We'll tell you why in this blog.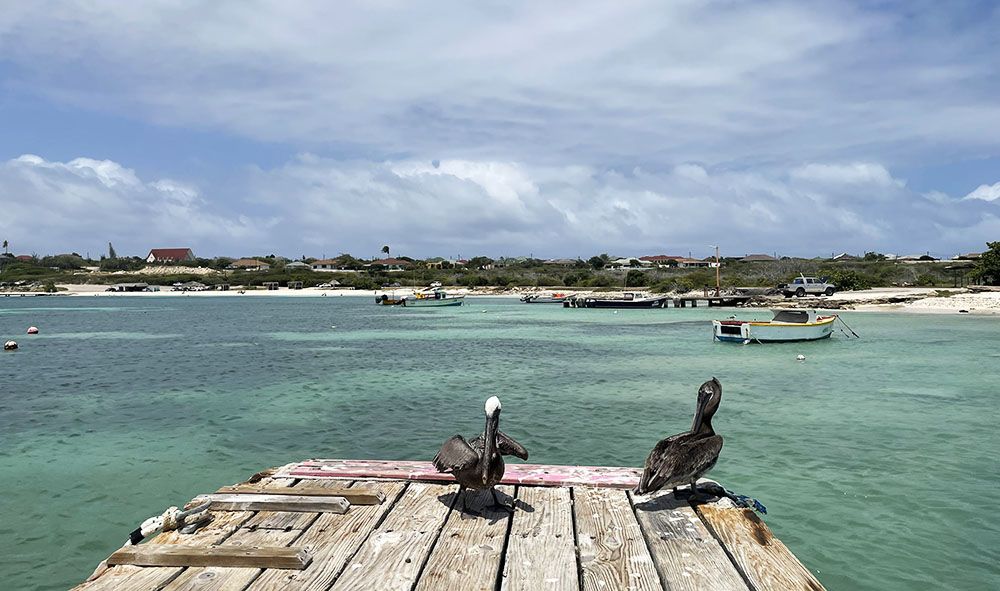 San Nicolas
The history of San Nicolas does not go back very long. Once upon a time, San Nicolas was the industrial and therefore economic heart of Aruba. The gold, aloe and phosphate extraction were flourishing industries. With the arrival of the oil refinery in 1924, the town flourished as never before. Due to the high level of employment, many Arubans, but also foreigners, settled in San Nicolas. The small hamlet of old quickly changed into a large, multicultural melting pot.
In 1985, the refinery closed down. The oil refinery later reopened temporarily. But in the meantime, tourism had become the island's main source of income. San Nicolas thus lost its position as the economic heart of the island. San Nicolas gradually became the "forgotten city". At least, until a few years ago. Because in 2016, Aruban curator Tito Bolivar had some abandoned and "unloved" walls decorated with art. Since then, the centre in particular has been brought fully back to life.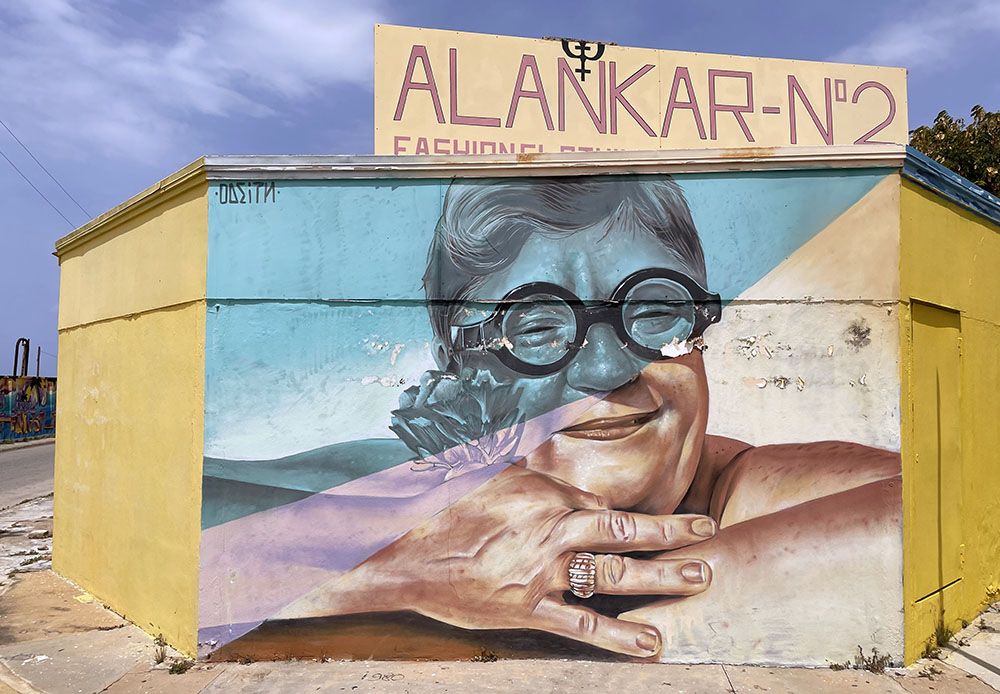 Our walk along the murals
It is an average holiday day on the always sunny Aruba, when we park our car. We walk a little through Zeppenfeldstraat until we reach the 'ArtisA Center': the art gallery of curator Tito Bolivar. Here we get to know the rest of the group and the particularly energetic Tito. In perfect English, interspersed with Dutch and Papiamento words, he introduces himself to us.
Tito, a graphic designer by birth, then takes us back to December 2015. In that month he flew to Bogota in Colombia where he first encountered public art. A huge mural with a child playing the saxophone steals his attention. Near the mural he sees the text "Arte por vida" (art for life). This inspired him to breathe new life into San Nicolas with murals.
Once back on Aruba, the curator organised the Aruba Art Fair. He decided to close this art festival with something permanent, namely murals. Full of passion, Tito talks of how he was able to enlist international artists for these murals. A golden touch that worked out particularly well for the local community. The local youth is now also artistically active with fun projects. One example is a project in which the city benches are colourfully decorated with mosaics. The streetscape has been improved enormously as a result.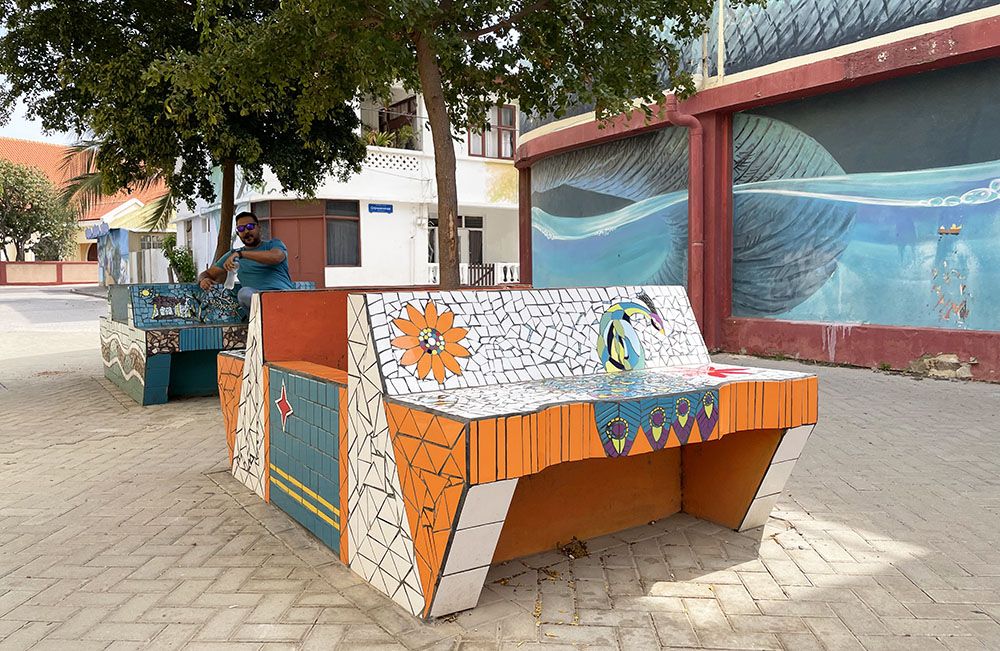 The San Nicolas murals
After the inspiring introduction, we leave the spotless art gallery. Soon afterwards, we see the first mural. Although well done, the subject does not particularly appeal to me at that moment. But this changes like snow in the Aruban sun as soon as Tito explains its meaning. The story of the mural offers us a glimpse into the history and culture of the island and its inhabitants.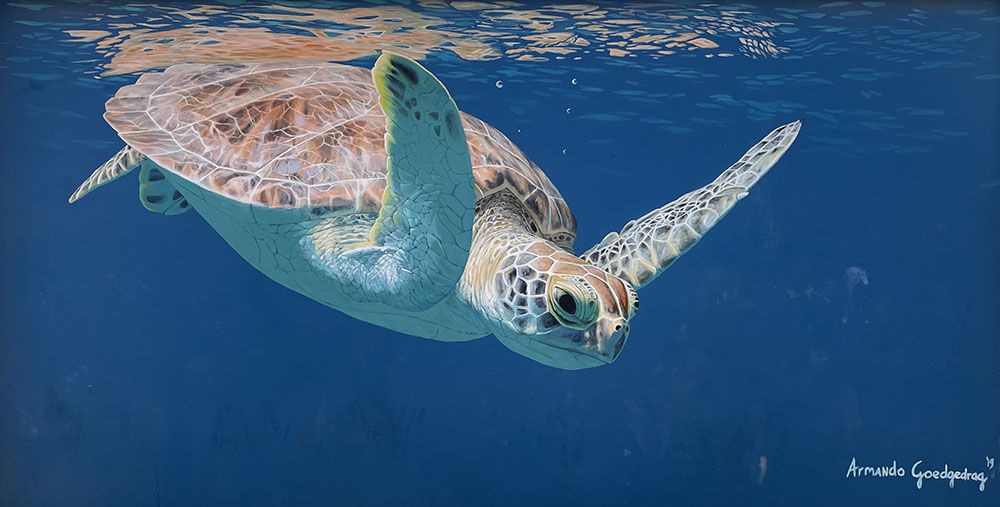 We continue our city walk along the most beautiful murals. Because they were created by different artists, we notice great differences. One looks surrealistic, the other so detailed that we think it is a photograph. One painting also contains virtual reality elements that come to life with a mobile app. But apart from murals, Tito also shows us mosaics and other art forms. However different the various artistic expressions may be, they do have one thing in common: each one has a special story to tell. For two hours, therefore, we hang on Tito's every word so as not to miss a thing of this Arte por vida.
We get back to the art gallery sooner than we'd like. We have learnt so much about Aruban culture! Thanks to Tito's unbridled energy and passion, we have been on an unforgettable city tour. We buy some more local art and say goodbye to the Aruban curator. On Tito's advice, we head for Charlie's Bar, the most famous bar on the island, to let things sink in.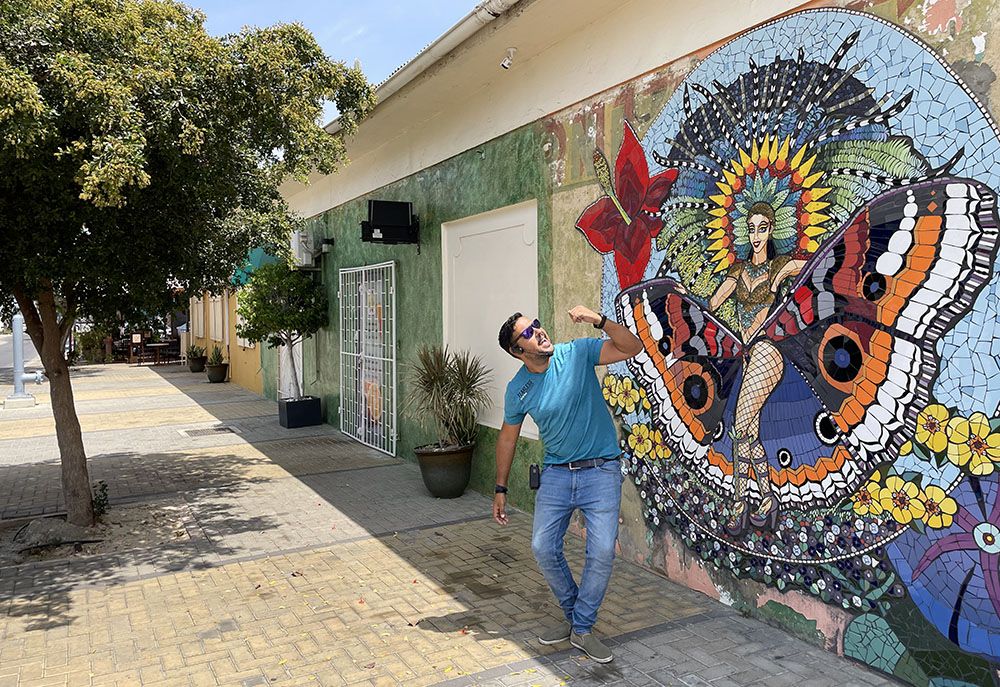 What else is there to see in San Nicolas?
San Nicolas is not a city overflowing with sights. It is more a city that you have to experience by strolling through it. For example, walk from the art gallery all the way down Bernard van de Veen Zeppenfeldstraat. Enjoy the peace and quiet of a Caribbean town where time seems to stand still.
Apart from the murals, you also pass the San Nicolas Community Museum. This museum is located in the beautifully restored Nicolas Store from 1940. The small, intimate museum tells the story of the people of San Nicolas throughout history. You will find antiques and memorabilia donated by Aruban families. Absolutely worth a visit!
Less than 100 metres further on, you have the local tourist office on the left side of the street. On Tuesdays and Thursdays, they provide free city tours. Prefer to go yourself? The helpful staff will be happy to tell you which highlights you shouldn't miss. For example, festivals or other activities that are sometimes spontaneously organised in San Nicolas.
A little further, Charlie's Bar has been around for over 80 years. As far as we are concerned, it is the best pub on the whole island. The establishment is not large but there is plenty of seating. Marvel at the many international memorabilia on the walls and ceiling. It's great fun! This is also the place for the best coconut shrimps in Aruba. Don't forget to leave something nice of yourself when you leave the bar. This way, their unique (bizarre) collection of curiosities keeps growing.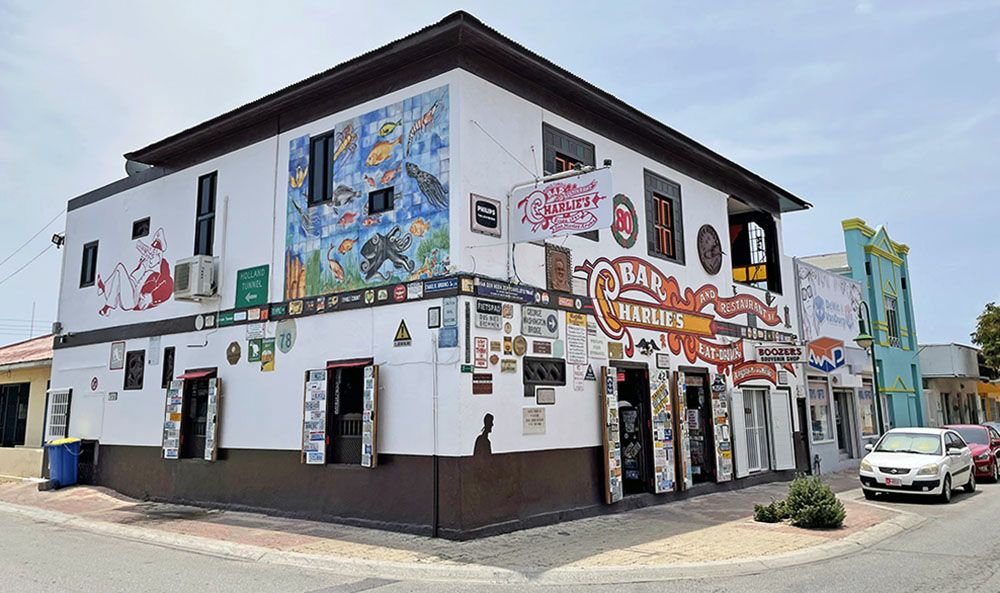 What to see and do in the vicinity of San Nicolas
Near San Nicolas you can visit many nice beaches. The quietest ones can be found just west of the city. But Baby Beach, the most beautiful beach in our opinion, is located two kilometres further east. This beautiful, relatively quiet beach is located on a shallow, wonderfully warm bay. Beach lovers can easily spend a day here. On the right-hand side of the bay is Rum Reef, a beach club-style beach club. You can eat well there but also chill out in or lounge around the pool.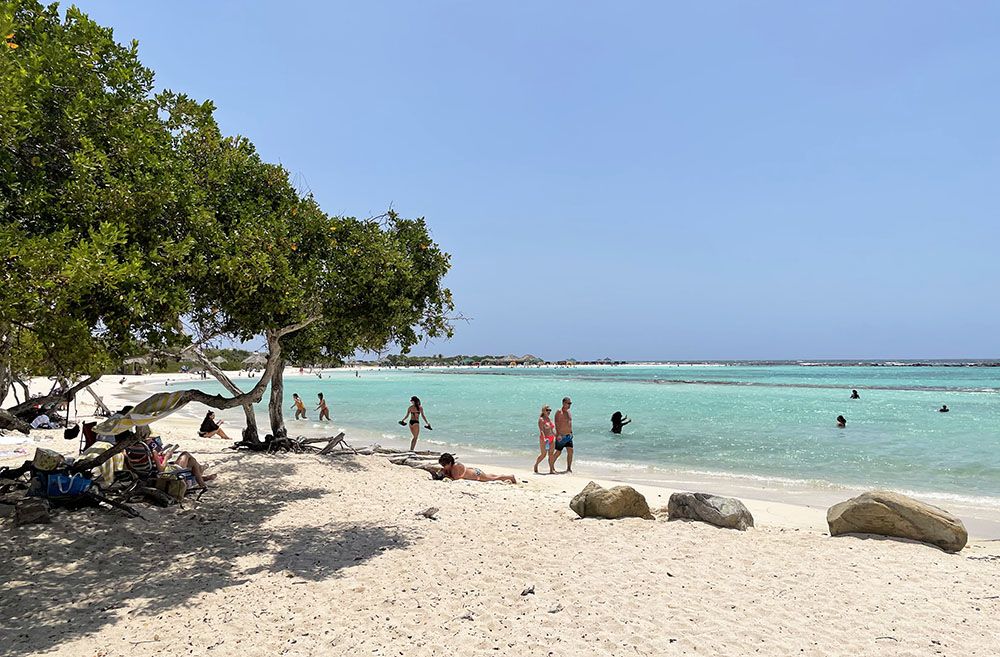 In the immediate vicinity of Baby Beach, there is a small fishing port. Here, pelicans come and go. It is a wonderful sight to see these large birds catch their prey deep in the sea. If you walk in the other direction, you will arrive at the old phosphate mine. You can visit the mine via Aruba Explorers. Do you prefer walking in the open air? At the Sero Colorado (coloured hill), you can do a beautiful walk of less than six kilometres. This walk takes you along the rough, rocky coast with the most beautiful viewpoints. Make sure you take enough drinking water with you!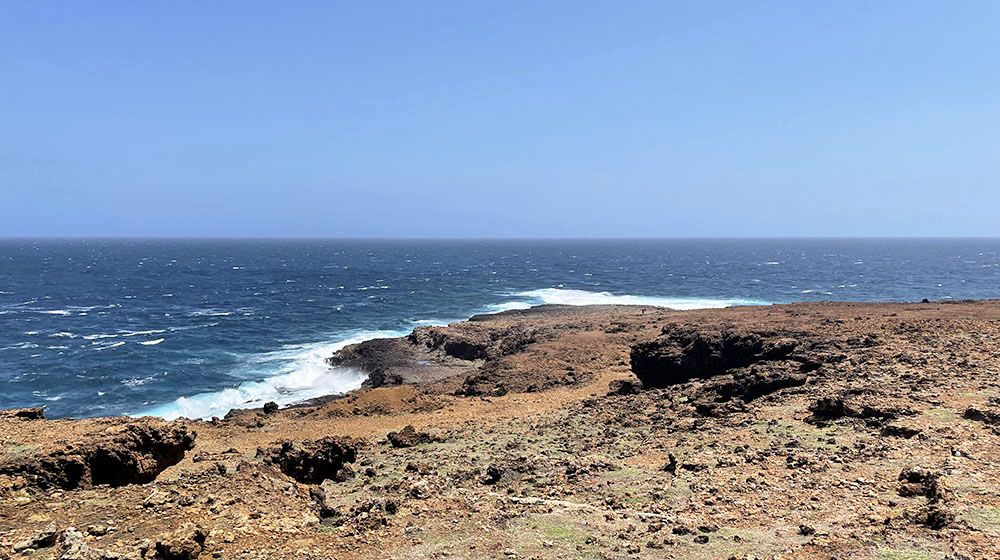 Practicalities for your visit to San Nicolas and the surrounding area
How do I get to San Nicolas?
A (rental) car is probably the most ideal way to get to San Nicolas. From Oranjestad take route 1 to the southeast. You will reach San Nicolas in about half an hour. From Eagle Beach, it is more than 45 minutes by car.
Public transport is also a good option. From Oranjestad, bus lines 1, 2, 3A and 11 go to San Nicolas. You can find the bus timetable on the Arubus website.
Where can I park my car in San Nicolas?
There is ample free parking both inside and outside the city.
How much time should I plan for my visit to San Nicolas?
You can see the artistic centre of San Nicolas in a full day. However, plan a full day to visit this part of the island.
Is there accommodation in San Nicolas and the surrounding area?
There are hardly any hotels in San Nicolas. You can stay in holiday villas or in people's homes via AirBnB.
Where can I eat well in the San Nicolas area?
There is plenty of choice of good, usually atmospheric eateries in the San Nicolas area. Here are a few. In San Nicolas itself, you can start with Charlie's Bar. Apart from a delicious refreshing Aruban beer, they serve the best coconut shrimps on the island. You will also find O'Niel Caribbean Kitchen for a good surf & turf. But for a delicious roti, Kamini's Kitchen is the place to go. At Baby Beach, you can go to Rum Reef and Big Mama Grill, among others.
How did San Nicolas actually get its name?
In the 19th century, the area still belonged to Nicolaas van der Biest. In those days, the landowner was addressed as shon Nicolas (Sir Nicolaas). It is unlikely that Nicolaas was a saint (san). However, it is thought that the change of name to San Nicolas is a corruption of the name by the Spanish speakers in this area.
Other topics you may be interested in