Addis Ababa is the capital of Ethiopia, which is growing every year and now has a population of over 3,500,000. Addis Ababa means new flower and was founded by Emperor Menelik II around 1886. This chaotic city is often visitors' first introduction to Ethiopia. We describe the highlights of Addis Ababa in this blog.
Addis Ababa is the second highest capital in the world after La Paz (Bolivia) and Quito (Ecuador). The city's altitude varies between 2200 and 3000 metres. Hence, it certainly doesn't hurt to acclimatise slowly on arrival. The culture shock is noticeable and the altitude certainly takes some getting used to for our bodies.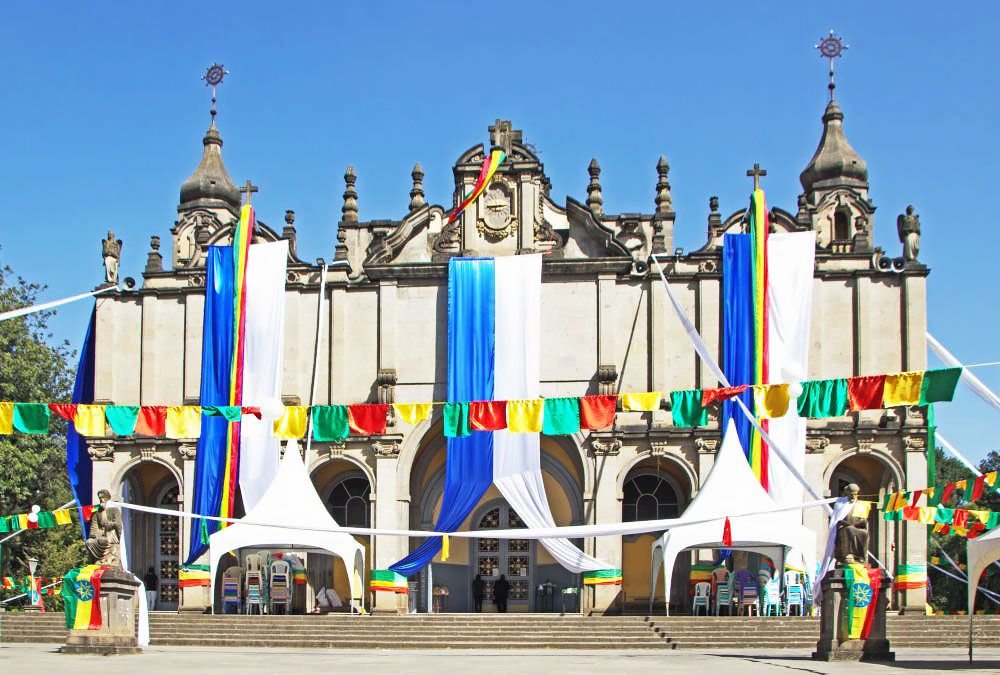 Heights of Addis Ababa
As far as we are concerned, while visiting Ethiopia's capital, don't miss the following sights:
Holy Trinity Cathedral
For many, Emperor Haile Selassie is a household name. He was crowned king in 1928 and in 1930 he had himself crowned from King Tafari to Emperor Haile Selassie. He claimed to be a descendant of the biblical King Solomon and Queen Sheba. Until the coup in 1974, he was a reigning monarch and also gained much fame abroad. Many heads of state visited Ethiopia and he was a welcome guest at royal houses. In 1974, a coup d'état brought Mingistu Haile Miriam to power and in August 1975 Emperor Haile Selassie died in prison under suspicious circumstances. His body disappeared and was not recovered until 1992.
In November 2000, his remains were still interred in the family tomb at Holy Trinity Cathedral in Addis Ababa where the tomb of the emperor and his wife stands next to the main altar. It is well worth visiting the church with its beautiful stained-glass windows and the emperor's throne. The area around the cathedral is also worth visiting with a small museum, a small cemetery and an old Orthodox church. The entrance fee is 100 birr per person for church and museum and for a guide to give a tour you pay about 100 birr extra per person.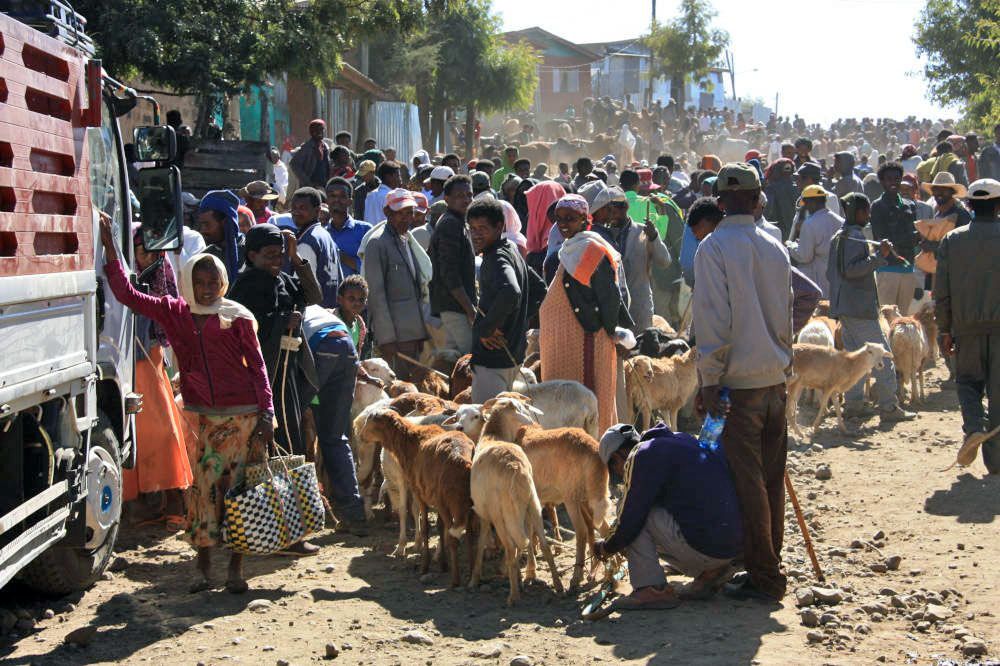 National Museum
The National Museum of Ethiopia displays Ethiopia's historical, cultural and archaeological heritage. The museum is not very large. The highlight is the exhibition of the fossil remains of Lucy, an adult woman who lived about 3.2 million years ago. Her skeleton was found in 1974 in northern Ethiopia and consists of several bones, including her ribs, lower jaw and part of the pelvis. What is special about Lucy is that she had the pelvis of an upright walking animal.
The 1974 find was therefore world-famous. Lucy proved that man's predecessor could walk upright more than 3 million years ago. She got her name because of the Beatles' song "Lucy in the sky with diamonds", which was very popular at the time. The story even goes that researchers played this song on a cassette tape when they found the fossil remains.
From the garden near the museum you can reach the restaurant Lucy. A nice place to have lunch in a lush garden and when you go for dinner and it gets too cool, there is a cosy indoor area. The garden restaurant is a favourite with tourists and a reservation is definitely recommended. National and international dishes are served. The mix juice is made from delicious fresh fruit.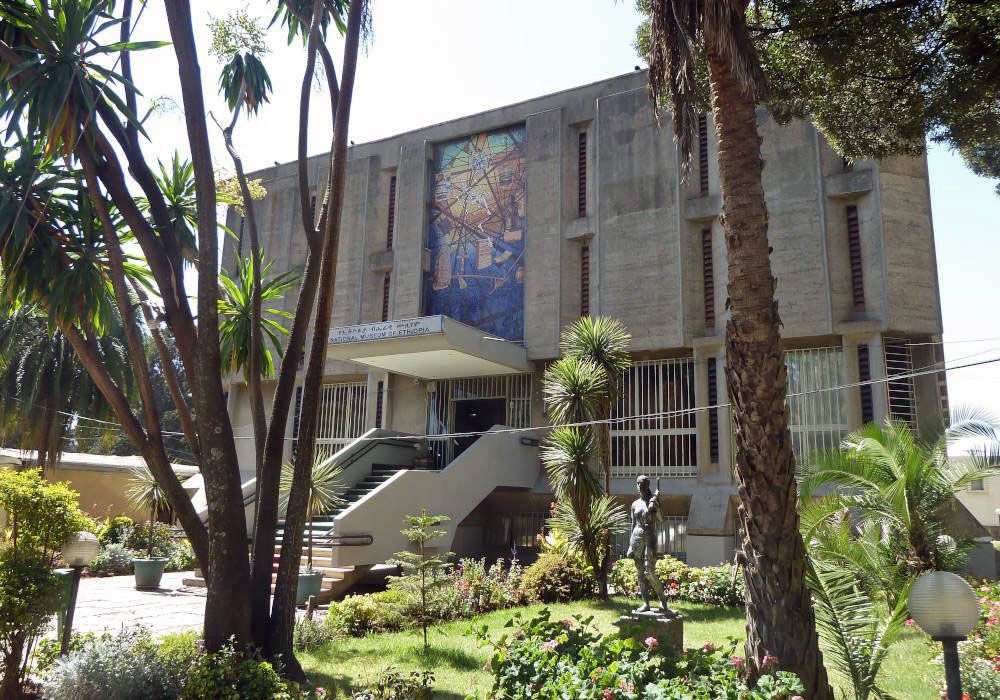 Entoto hill
A special place in Addis Ababa is Entoto Hill. From the hill, you have a beautiful view of the city of Addis Ababa. On top of the hill is Addis Ababa's octagonal and also oldest church, the Entoto Maryam. You can also visit Menelik II's palace.
One of the most impressive encounters are those with the local women on the hill who go every day to gather wood to sell at the market. Every day early in the morning, they head up the mountain. Around three in the afternoon, they walk down with about 40 kilos of wood on their backs. The coppiced wood is mainly used for cooking. If you want to take a photo they would like a tip for it. The usual is 10 to 15 birr.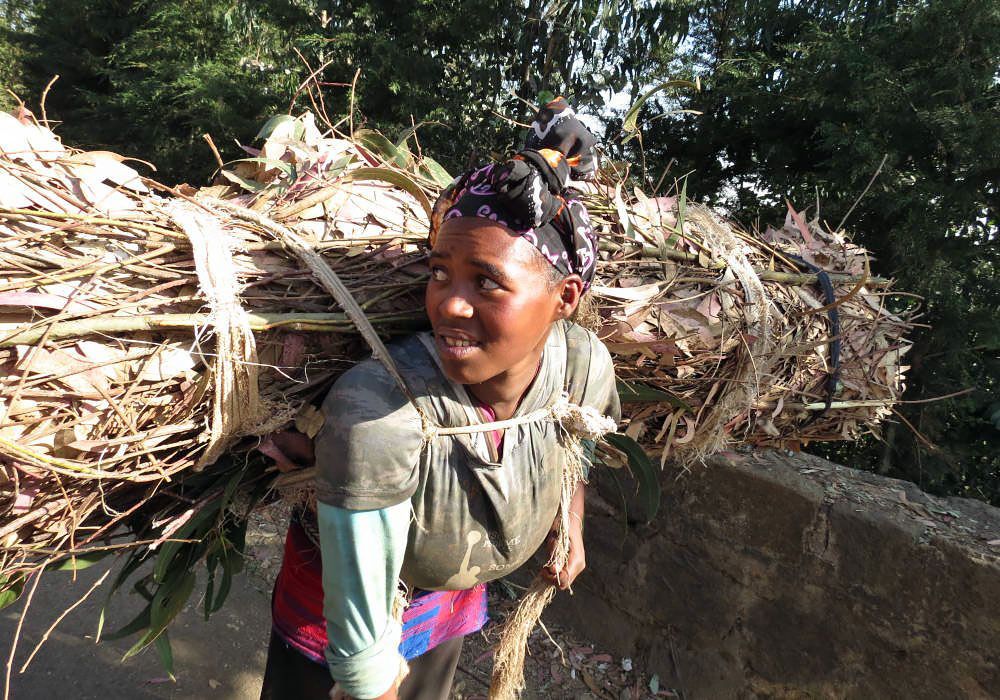 Etnological Museum
Even for non-museum lovers, this museum is well worth a visit. According to experts, it is one of the best museums in the whole of Africa. Besides, it is housed in an unusual and beautiful building: the old palace of Haile Selassie. The surrounding gardens and fountains make it an oasis in a busy city.
Divided over two floors, you will find a lot of information about Ethiopia's cultural and social history. What is special is the way the art objects are displayed in the museum. In fact, the museum follows the various stages of life that humans go through, from birth to death.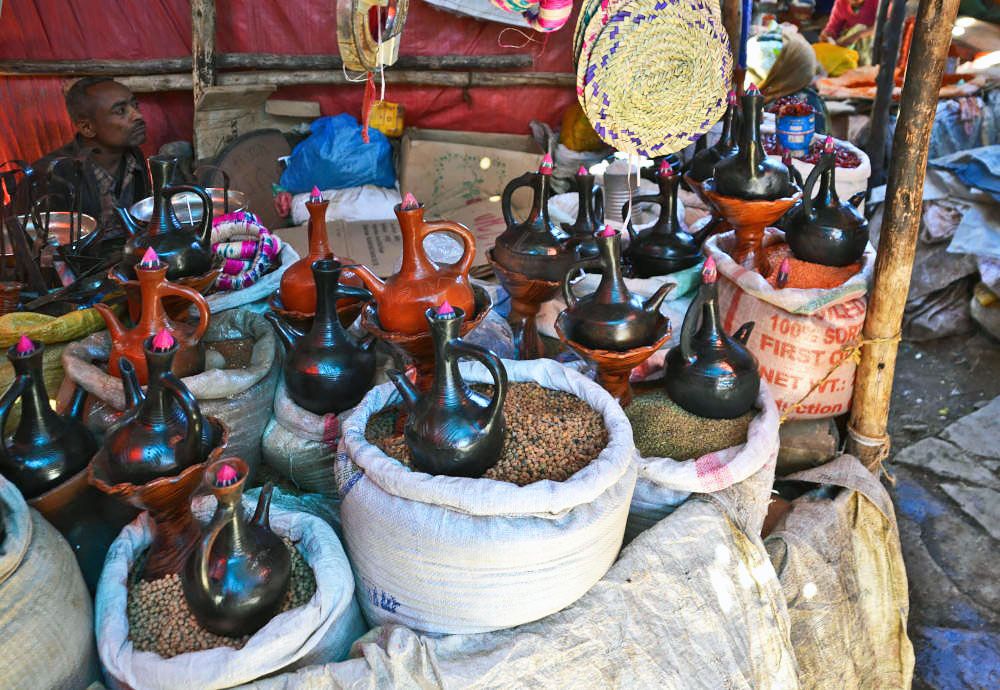 Mercato
Market lovers should not miss the Mercato. A market anywhere in the world is a place where you can watch the locals perfectly. This is no different for the Mercato in Addis Ababa. It is the largest open-air market in Africa, open every day except Sundays. A market where you can encounter the entire population of Ethiopia and even Africa. The market is kilometres long and wide. You can find anything you can think of. Every corner of the market has a specific trade, such as a street where only spices can be found. Or vegetables, meat, livestock, kitchen utensils, wood for cooking, beautiful African fabrics and clothes, or souvenirs for tourists. In our opinion, the Mercato is one of the main highlights of Addis Ababa.
Sometimes getting there is a challenge. Whether you go by bus or taxi, the streets around the market are always congested with traffic. The most convenient way is to go by taxi and continue on foot once you are in the area. Be alert to pickpockets at the market. Bargaining is normal if you want to buy something.
Practicalities when visiting Addis Ababa
If you want to visit the highlights of Addis Ababa, keep the following in mind:
Addis Ababa has plenty of accommodation in various price categories. Overview of hotels in Addis Ababa
Addis Ababa is chaotic and traffic can be heavy in the city centre. Take your time to get used to this African country before travelling further.
Be mindful of the altitude and definitely do not go to Entoto Hill on the day of arrival. The danger of altitude sickness lurks! Ethiopian athletes train on this hill for a reason. It is their "altitude training"!
Watch your belongings carefully in Addis Ababa. Although there is little crime, the city is notorious for pickpockets, especially in crowded places like the market. Do not take valuables on the road and store your money safely under your clothes.
City tour and day trips from Addis Ababa
Book special tours with our partner GetYourGuide here. We earn a modest commission for your booking at no additional cost to you. The commission helps us maintain this travel blog.